At your request, a team of project developers will visit your site for a preliminary evaluation. During this initial consultation, our planning and design team will:
Meet with you to learn about your plans and goals

Help you to articulate your vision

Visit the proposed location

Evaluate the natural resources, trees and environment

Use the information gathered to assess the feasibility of the project

Develop a preliminary plan for your park

Provide a written assessment of the project

Please call us to discuss our fees for this service.
We have in house engineering and are licensed to practice nationwide including the state of California.
PROJECT MANAGEMENT & CONSTRUCTION
We recognize that the needs of our clients differ at every location and we are available to assist you, as needed. A typical construction project consist of:
Environmentally sound and sustainable construction

Excavation for buildings, parking, and trails (Our team prefers to supervise this, since it is our goal to leave the location as natural as possible. Every effort is made to preserve the existing health and beauty of the environment.)

Construction of facilities as necessary for park operations including ticketing, rental equipment and restrooms

Construction of the aerial park

Use of ANSI, PRCA and ACCT approved methods and materials

We use a proprietary system of suspending our elements in the trees that is non-invasive and does not bolt or screw into the trees
OPERATION AND STAFF TRAINING
Operations and Staff Training are essential components of each installation. Our certified team of trainers will review your staff qualifications and custom design training programs to meet the requirements for their position. Training may include:
Development of procedures for all areas of operation
Safety training on use of the equipment
Training staff on interaction with participants and other staff for safe use of all equipment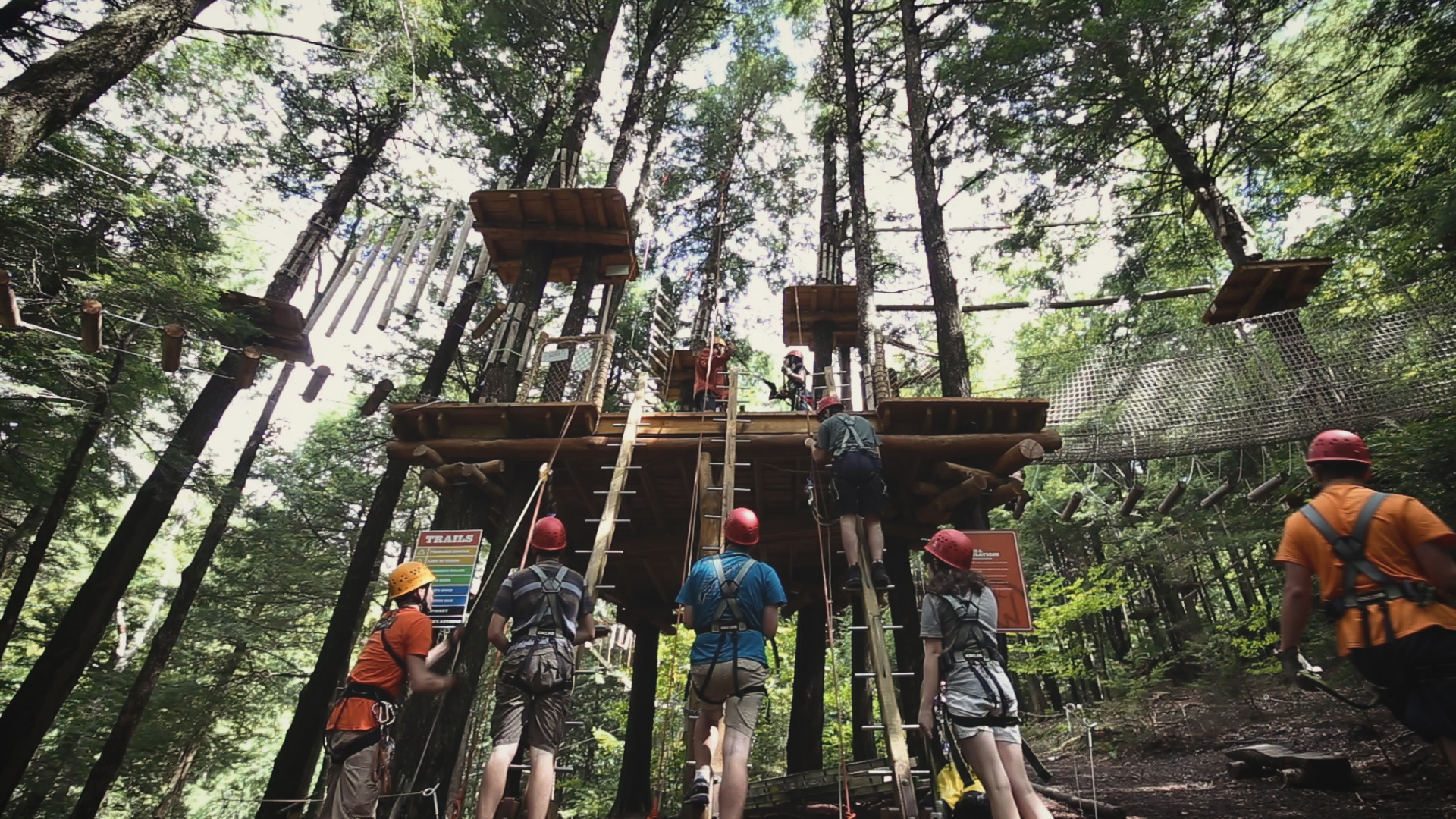 IMPLEMENTATION AND OPERATION
"Tree-Mendous Aerial Adventures" is our branded name for marketing. Our goal is to develop brand recognition and thus, synergy between our park owners and partners to develop an awareness and trust in the quality of Tree-Mendous Aerial Adventures. This brand is a symbol of excellence in the industry. As a brand, we build value for our partners with a central advertising and marketing program and patrons across the country will know the quality and enjoyment that our parks bring.
Our park operations utilize an independent LLC formation where the investor and Tree-Mendous Aerial Adventures partner to offer a complete solution to the investor/owner and the participants. We bring decades of combined experience in the industry to ensure our client's satisfaction with custom designed operational packages ranging from basic platform and bridge construction to full turn-key installations.
Tree-Mendous operational services include:
Assist with staffing needs from the general manager to the ticket counter
Manage the operation under the joint leadership with you and our experienced team.
A worry-free turn-key business while you collect periodic revenue payments
Routinely, detailed reports are shared with you, keeping you informed about the operational performance
Professional interaction at every level
For additional summer revenue or a spectacular attraction in your area, Tree-Mendous Aerial Adventures provides the perfect solution.